Submitted by Barrett Morgan ... on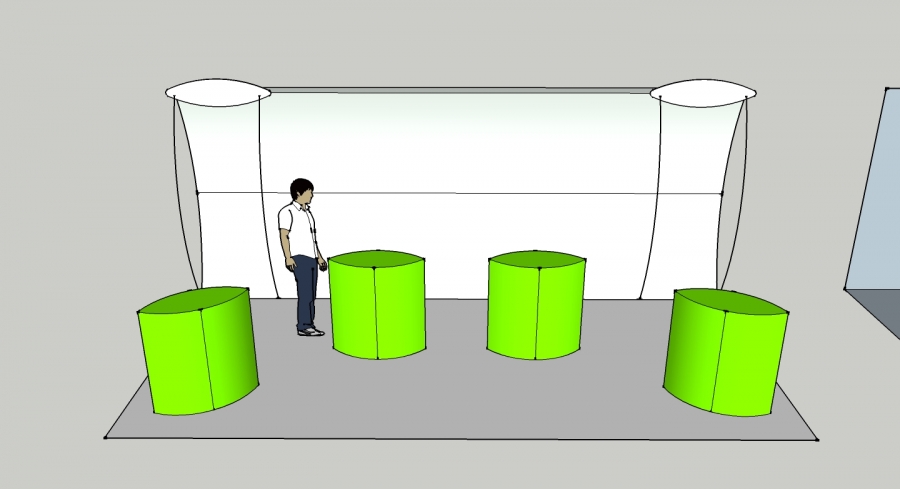 Spring is the season for trade-shows! I was approached by Cladding Corp to help design their space in the upcoming AIA 2012 National Convention and Design Exposition. 
Drupalcon Denver
I was just coming back from a show myself in Denver, Drupalcon, where I learned more about Drupal, and how huge it really really is. Loved it.
Anyways it gave me great insight into good and bad booth concepts. The booths that created an atmosphere and had welcoming engaging people were the most rememberable.
 
Atmosphere
One of the biggest challenges was how to create a welcoming space without cluttering it. Design is often removing the uneccessary. The simple, well designed booths in Denver cought my eye the most. The ones with good design, the ones that gave away iPads, and the ones that didn't push you to do anything but just have a conversation, those were the best.
Design
Cladding Corp came to me with the mosaic background concept. Which brought a challenge in both atmosphere and execution. How do you do this effectively, how big should the images be, is repeating the images a big deal, should it be organic colors or overlay the logo? All were confronted in the process.
The actual file crashed my MBpro a lot. I had to jump over to our bigger mac that had more RAM to handle the 20 foot wide image! (at ~180ppi)
Everything in front of the mosaic had to be designed in a bold clean way that could stand out next to such a catching background.
Execution
Dave Stutts from Cladding Corp handled the execution, setup, tear down, everything. I was very impressed with how it all came together and installed in their space. The photos he sent from the show are attached below, and I couldn't have been happier as a designer. It truly makes you want to walk up to the background and see how this image is put together, and then talk to the guys about their product. They cover a lot of installations across the US and this booth helped effectively communicate just that while educating people about their product.
After the show the booth element printer and I received an email... 
"The booth was a HUGE success! Thank you both for such a great booth.  The artwork got TONS of compliments and folks stopped by and told us – that we had such a cool booth.
I would HIGHLY recommend this "booth concept" for others. It worked on SOOO many levels.
Great work!"
Designing Spaces
I love designing spaces. Let me know if you have a challenging concept you need some design work on and I'd be glad to offer my assistance.